Tokyo Station Map / Area Map
Tokyo Station Map /
Area Map
Coin Lockers
Baggage Storage
Ticket Gate
Ticket Office
Restrooms
Child-Friendly /
Barrier-Free
ATM
Wi-Fi Service
Money Exchange
Services
Information
You can also download and use the "TOKYO STATION NAVI" app for smartphones.

*You can check the availability of Suica lockers in real- time.
Shinkansen Parcel Service & Baggage Storage
Location: Outside Yaesu South Gate
Hours: 5:30 to 23:00
Service Details : luggage transportation (Hakobyun Quick), temporary luggage storage
"Hakobyun Quick" is a luggage transportation service, for city to city delivered by JR-East Shinkansen (bullet trains only within JR-East areas). You can make a delivery request until 30 minutes before each train leaves, with even 1 item is available and no pre-registration is required.
Go to details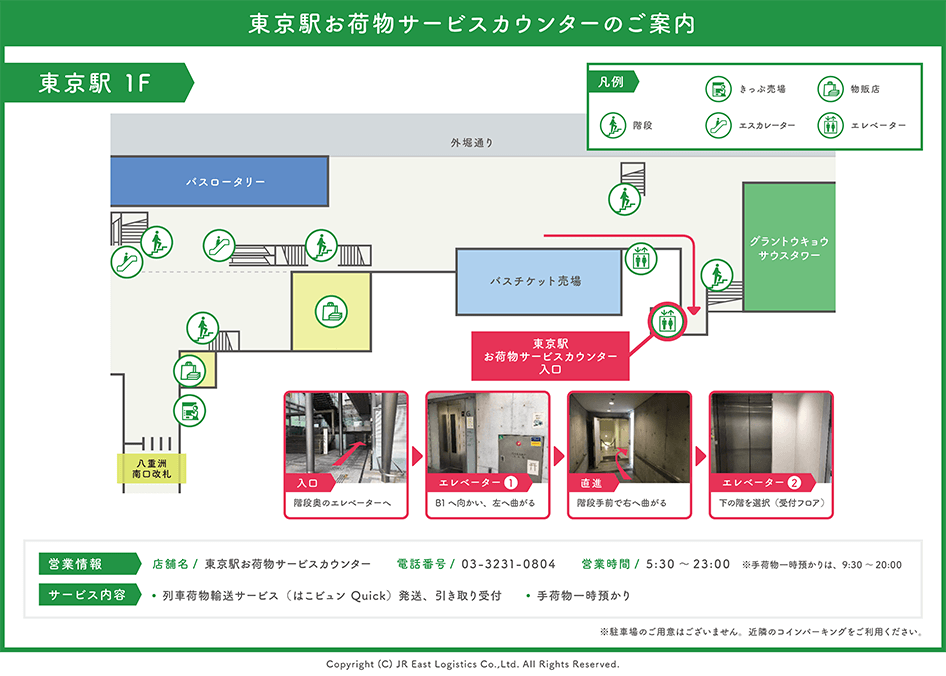 Coin Lockers/Baggage Storage/Same-day baggage hotel delivery service at Tokyo Station
Baggage Storage
Outside ticket gates
Inside ticket gates
VIEW ALTTE
Inside ticket gates

1F Marunouchi South Gate

1F Marunouchi Central Gate

1F Yaesu Central Gate

1F Yaesu South Gate

B1 Station Concierge inside GRANSTA TOKYO

1F Central Passage
Outside ticket gates

1F Yaesu North Gate

B1 Marunouchi Underground North Gate

B1 Marunouchi Underground South Gate
Seven Bank ATM
Outside ticket gates

①1F Marunouchi North Gate

②1F YAEKITA SHOKUDO

③1F Nihombashi Gate

④B1 First Avenue Tokyo Station

⑤B1 GRANROOF
Japan Post Bank ATM
Outside ticket gates

①1F Yaesu South Gate

②1F Nihombashi Gate

③B1 GRANROOF
Other Major Bank ATM
Inside ticket gates

①1F Yaesu South Gate (Inside NewDays):
Mizuho Bank
Outside ticket gates

②1F Yaesu South Gate: Mitsubishi UFJ (MUFG)

③1F Nihombashi Gate: Resona Bank

④1F YAEKITA SHOKUDO: Mizuho Bank

⑤1F YAEKITA SHOKUDO: Resona Bank

⑥1F Marunouchi Underground North Gate(Inside NewDays): Mizuho Bank

⑦1F Marunouchi Underground South Gate(Inside NewDays): Mizuho Bank

⑧B1 Yaesu Underground Central Gate:Mizuho Bank

⑨B1 GRANROOF: Sumitomo Mitsui (SMBC)

⑩B1 Yaesu Underground: Mizuho Bank

⑪B1 Yaesu Underground: Resona Bank
JR EAST Travel Service Center
Outside ticket gates

Location : 1F Marunouchi North Gate

Opening hours : 11:00 am - 7:00 pm

No. Currencies Handled : 31